Arab Developers Holding announces its investment plan driven by its long history and ambitious business strategy by launching two new brands "Nyoum" for residential projects and "Sia" for coastal projects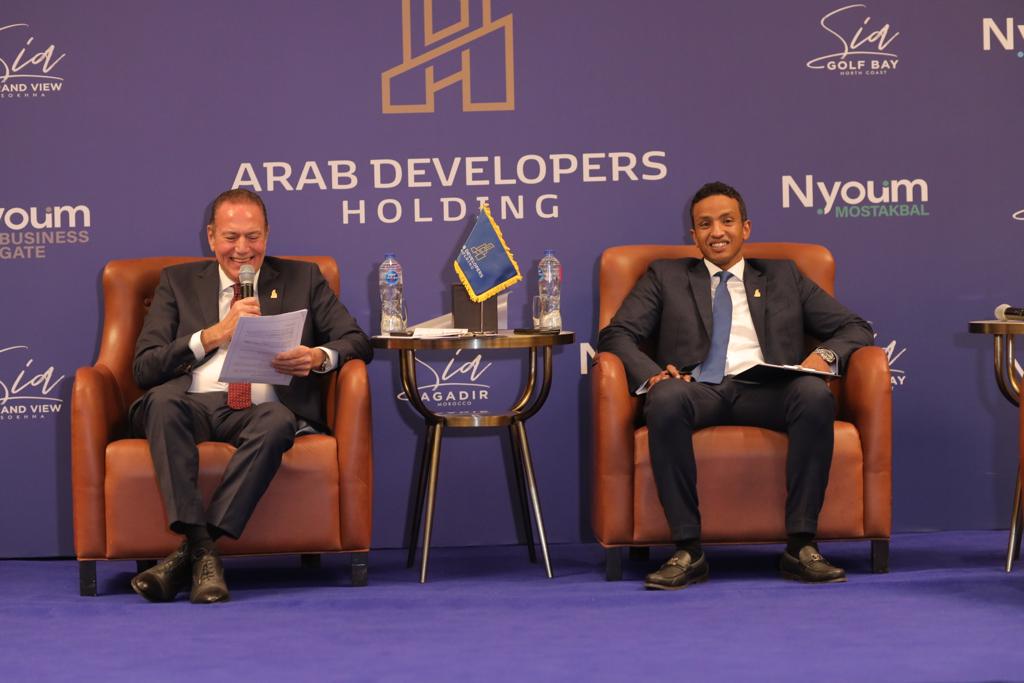 Gamal Fathallah:
Company took two years to restructure, rebrand and schedule projects delivery
Commitment to timed deliveries maintains confidence of our existing customers and doubles the company's potential client base

The company boosted construction works and deliveries during 2020 – 2021 despite COVID-19 crisis
We are targeting to surpass EGP 2bn of sales during 2022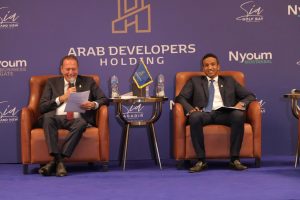 Ayman Bin Khalifa:
Timed Delivery is the core focus for the new management in the current year to maintain confidence of our customers
We plan to deliver more than 2,000 units over our various projects in 2022
We aim to direct EGP 1.5bn into our projects this year to speed up construction rates and delivery

The company launches two new brands "Nyoum" for our residential projects and "Sia" for our coastal projects
The strength of Egypt's real estate market supports our expansion plan for the coming period
With a long history full of confidence and commitment, a new business strategy based on a clear, specific and carefully studied vision, in addition to developments of the company's shareholding structure. Arab Developers Holding has now launched from Egypt to continue and further develop its regional real estate business
he company held a press conference that included its leaders and a number of prominent journalists, to announce the developments that the company witnessed during the past two years, in addition to the most prominent features of its upcoming plan for the coming period.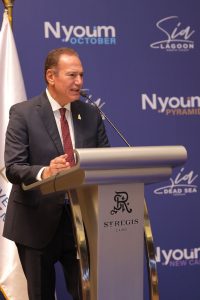 For his part, Gamal Fathallah, Chairman of Arab Developers Holding, confirmed that the company has a new business strategy based on several pillars. Most notably commitment with its customers and maintaining their confidence and raising their level of satisfaction. In addition to, continuing to develop our current projects, we seriously study and look forward to new investment opportunities that we find feasible and profitable, and all our work axes must be accompanied by innovation and creativity in every detail.
Fathallah noted, "With the entry of Arab investors to the company's shareholders' structure, it was decided to change its name from Porto Group to Arab Developers Holding, in line with the vision of new board of directors and desire for formal and fundamental change that would contribute to enhancing the company's reputation in the real estate market.
He highlighted that the company has taken two years since the entry of new Arab partnerships for administrative restructuring, and the development of a new specific workplace strategy known to all parties, starting from the top management and down to all employees to ensure that everyone works with one clear, shared unified vision.
He disclosed that the company's new business strategy led to results transformation from losses of EGP 9m during the first nine months of 2020 to record a EGP91m in profit in the same period for 2021.
He pointed out that the company's total projects portfolio includes 15 projects, 10,500 sold out units, and 7,500 delivered units.
The company's total land bank includes 5.27 million sqm, consisting of land plots that are 100% owned by the company and some are revenue shared projects partnerships.
he disclosed, since the company's inception it has invested over 10.5B EGP to complete around 31% of its total work in progress across all of its local and regional projects.
Fathallah stated that the company did not focus only on investment and development in Egyptian real estate market, but had set its sights on external expansion and headed to promising markets in the region, such as Morocco and Jordan.
He went on to say, "The company has developed various projects throughout the Arab Republic of Egypt. and decided to take our experience abroad to launch and relaunch our two promising projects Sia Aghadir (formerly Porto Aghadir) in Morocco, and Sia Dead Sea (formerly Porto Dead Sea) in Jordan."
Furthermore, he explained that the company's current and future policy puts the customer first in mind, focuses on meeting their current and future needs, respecting all customers' rights and achieving their expectations and trust in the company. Moreover, maintaining quality as a basic standard that the company does not waive in all its projects in order to maintain its credibility and clients confidence.
"The Arab Developers Holding's current shareholder structure includes the Emirati Asmak Company with 19.7%, investor Abdul Salam Masood Abdelkarim with 8.5%, and some Arab and Egyptian individuals. Additionally, the company aims to record sales exceeding EGP 2bn in 2022, based on the diversity of the company's products and the provision of various payment plans, as well as the continued presence of strong demand for property," he explained. "Over and above, the company is open to all forms of financing in case of a need for external financing, and in general, we start our projects with self-financing. In the case of a need for new financing, the company studies all available alternatives and chooses the best fit for it."
The company's chairman disclosed that it is planned to deliver more than 2,000 units during the current year, added, "Delivery is the top priority for the company."
He stressed that Central Bank of Egypt's mortgage finance initiative at an interest rate of 3% is one of the distinctive mechanisms carried out by the state to bridge gap between purchasing power of customers and property prices, and enables a large group of citizens to afford housing units with their financial capabilities.
Real estate market would see price increases during the next stage due to high cost of construction process, he believed, concluded that his company has a plan to deal with these price changes by offering various and flexible payment terms to its customers. Along with, offering prices that achieve a strong growth rate for customers in the value of their units.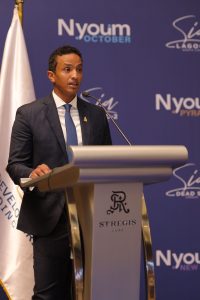 Arab Developers Holding's CEO Ayman Bin Khalifa stated that the new management's workplace strategy focuses on several axes, the most important of which is focusing on delivery.
Bin Khalifa added that the company plans to deliver more than 2,000 units in its projects during the current year, noted that the company plans to inject investments in construction worth EGP1.5bn in 2022.
He said that the brand of Arab Developers Holding includes Nyoum, which is intended for residential projects developed by the group, and Sia, which is dedicated to coastal projects, and the brand of the projects has been changed to Nyoum or Sia according to project nature.
He further pointed out that the Nyoum brand now includes projects of Nyoum October, Nyoum Pyramids, Nyoum Assiut, Nyoum New Cairo, Nyoum El Mostakbal, and Nyoum Cairo Residence. Meanwhile, Sia brand now includes projects of Sia Villagio in Golf Porto Marina North Coast, Sia Matrouh, Sia Lagoon, Sia Island 1 and Sia Island 2.
The company's CEO elaborated that since the beginning of business of the new management of Arab Developers Holding, it has focused, besides restructuring the group administratively, and developing a strong work strategy that enhances its position in Egyptian and regional real estate market, on expediting delivering delayed units because of circumstances beyond the company's control, including COVID-19.
"Despite this crisis, construction rates and delivery according to clients' testimony were the highest in the company's projects during the past year. Accordingly, the company began scheduling delayed units and delivering them to customers, more than 1,200 units, which won the satisfaction of a large number of the company's clients who have already received their units and others who are waiting for their delivery dates, which reflects their confidence in the new management and its working mechanisms," Bin Khalifa explained.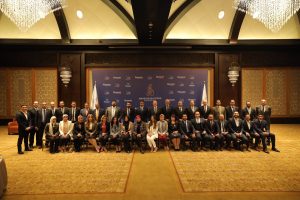 He pointed out that the company's portfolio of projects includes various projects in multiple areas that achieve geographical diversification in the local market, including the Nyoum El Mostakbal project, which overlooks Al-Amal axis, the main entrance to the administrative capital from the Suez Road. The development is located on 683,000 sqm encompasses villas, buildings, green spaces and golf courses.
Spanning over 390,978 sqm in New Nasser city(Al Hadaba), the Nyoum Assiut project is an integrated project includes apartments, villas, shops, a hotel, a school and clinics. The development was launched in 2020.
The Nyoum October project was launched in 2013 on an area of 1.381 million sqm. The project includes the largest fountain to be opened soon, the largest open mall, in addition to a hospital, a club and three schools.
In the meantime, the Nyoum Pyramids project embraces luxury apartments with swimming pools, a social club, a tourist walkway and a hotel with a capacity of 44 rooms. The project is located on the Cairo-Alexandria Desert Road, near the Grand Egyptian Museum and Sphinx International Airport.
He added that the Nyoum New Cairo project is a residential tower that includes luxury apartments and a huge commercial mall. In addition to the Nyoum Medical Hub project, which is a medical project located near New Cairo.
As for the projects bearing the Sia brand, namely are Sia Lagoon, which is situated within the Golf Porto Marina project, on 41056 sqm. The lagoon was opened in the project last summer, which was implemented by International company Crystal Lagoons.
Moreover, the Sia Matrouh project which is part of Porto Matrouh, besides, the Sia Villagio project in North Coast, which includes 539 villas and 42 shops.
Outside Egypt, Bin Khalifa explained that the company is developing the Sia Aghadir and Sia Dead Sea projects, as the Sia Aghadir project spans over 1.2 million sqm. It is an integrated residential, tourist-entertainment project.
The Sia Dead Sea project stretches over19,534 sqm, and the company has delivered first phase, and the second phase will be launched soon that includes 440 apartments, 120 hotel rooms and 40 shops.
Egypt's real estate market is characterized by strength, regardless of size of challenges it faces, which supports the companies' plans for continuous expansion in this promising market, as well as the continued existence of investment opportunities resulting from comprehensive and unprecedented urban development undertaken by Egypt, he said. Moreover, real estate investment and construction sector accounts for about 15% of GDP, he concluded.