As part of its strategy to reduce carbon emissions: Intro Sustainable Resources and Siemens Energy join forces to establish highly efficient joint Power Plants in Egypt and the region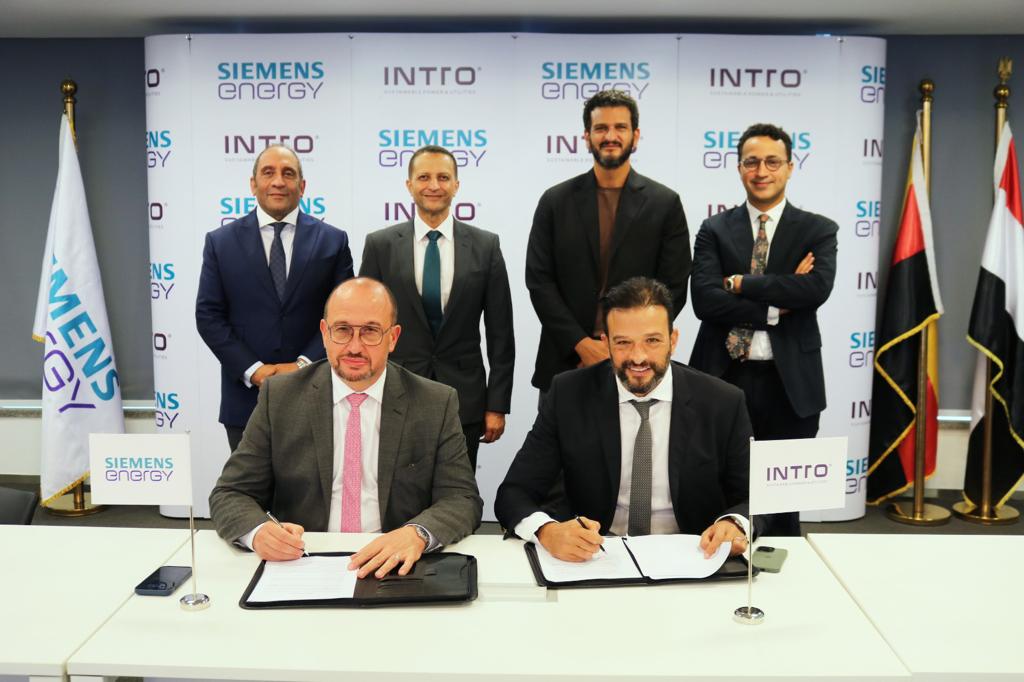 Mohamed Abbas: Our Strategy is aligned with Egypt's 2030 Vision in achieving sustainable development and combating climate change.

Recently, Intro Sustainable Resources and Siemens Energy signed a collaboration protocol for the implementation and installation of 300 MW Combined Heat and Power (CHP) Power Plants in Egypt and the region by 2030. The signing was motivated by the need to reduce carbon emissions and combating climate change through increasing energy efficiency and the first of these plants will be implemented in Egypt.
This collaboration falls under the umbrella of Intro's strategy, which aims to actively contribute to advancing sustainable development through the implementation of a number of CHP projects, as it represents one of the solutions to abate climate change and lay the groundwork for the transition to a decarbonized future.
Hani Helaly, Managing Partner of Energy and Utilities at Intro Sustainable Resources is excited for the ongoing cooperation with Siemens Energy, which represents one of the leading global companies in the field of energy technology, with its operations all over the world capitalizing on its strong local presence in countries in which it operates. He added that the two parties are already cooperating in implementing a joint power generation station in the 10th of Ramadan City.
According to the cooperation protocol, Intro Sustainable Resources will be responsible for financing and development of the projects, while Siemens Energy is responsible for contributing to technical studies and supplying the projects with the turbines and other necessary equipment.
Dietmar Siersdorfer, Managing Director of Siemens Energy in the Middle East: "This important agreement with Intro extends our partnership and helps to accelerate industrial decarbonization in Egypt. By leveraging Siemens Energy's highly efficient Combined Heat and Power (CHP) technologies we hope to significantly reduce emissions and improve sustainability throughout the country and the region. Innovative partnerships like this are vital to reducing emissions and I look forward to further strengthening our important collaboration with Intro".
For his part, Ashraf Hamasa, Managing Director of Siemens Energy in Egypt: "I'm delighted that Siemens Energy is expanding our important partnership with Intro. This collaboration to decarbonize industry through the use of our highly efficient Combined Heat and Power (CHP) technologies is in line with Egypt Vision 2030 and will support Egypt to accelerate its ambitious decarbonization journey".
Mohamed Abbas, Founder and Chairman at Intro Sustainable Resources, added: "This cooperation confirms our keenness to effectively contribute to achieving the United Nations development goals in Egypt and the region, and our alignment with Egypt's 2030 vision. Our work focuses on implementing energy efficient solutions throughout the transition to a decarbonized future, especially since energy is the foundation for achieving comprehensive development in all societies.
Intro Sustainable Resources Holding, a subsidiary of Intro Investment Holding, operates in the green economy, mainly in the fields of sustainable power and utilities, and recycling and smart waste management., Intro Investments Holding owns several prominent companies in diversified fields including, oil and gas, technology, real estate, food and retail to name a few with a solid track record of achievement in the local and regional markets. ADES Holding; at the group's forefront debuted its shares on the Saudi Stock Exchange "Tadawul" on October the 11th.
Siemens Energy is one of the world's leading companies in the field of energy technology. The company collaborates with its customers and partners to innovate future energy systems, which supports a smooth transition towards the more sustainable world of tomorrow. Through its integrated portfolio of solutions, products, and services that cover all components of the energy sector value chains, from energy generation and transmission to energy storage solutions. The company's product portfolio includes traditional and renewable energy technology solutions such as steam and gas turbines and hybrid power generation units that rely on.