Sultans for Investment and Development (SID) showcases its development strategy in the Egyptian market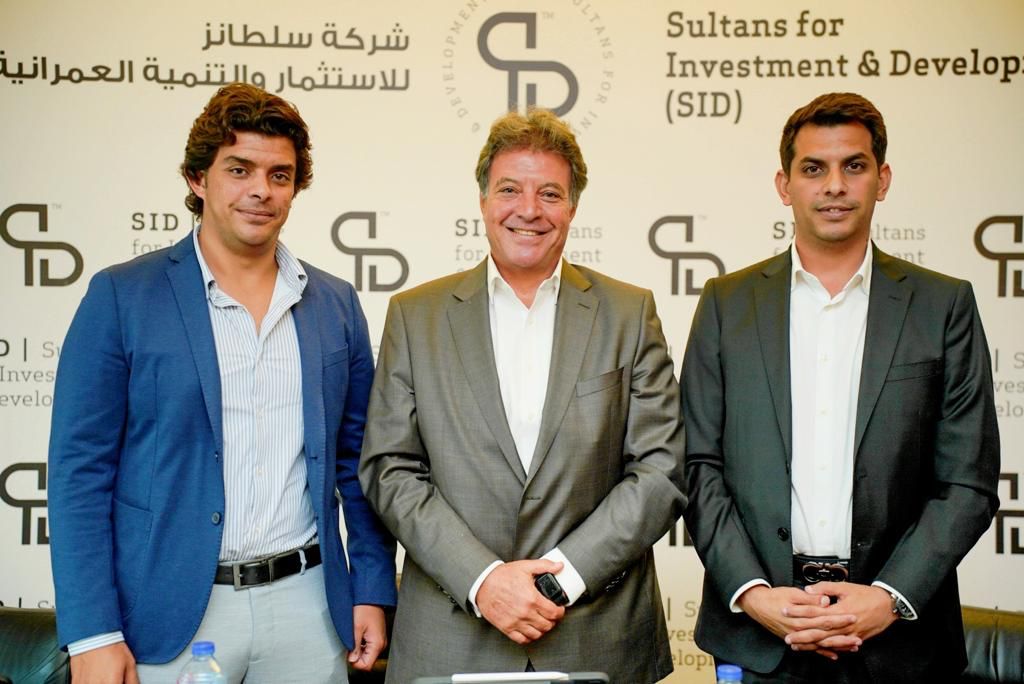 Cairo, September 5, 2023: Sultans for Investment and Development (SID) unfolded its strategy in the Egyptian market, which aims to actively contribute to urban development by adopting an effective model that focuses on the establishment and management of robust partnerships with esteemed partners to facilitate the creation of successful and sustainable development projects.
SID has also unveiled its digitally and technically enhanced project, "Crown Central," spanning over an area of 77,000 square meters in Palm hills October. The company has collaborated with Investmentors and Palm Hills Developments, the general developer and landlord, to develop a commercial and administrative project that offers its clients a unique experience.
The announcement came during a roundtable held by the SID to reveal its strategy and roadmap in the Egyptian market, in the presence of Eng. Mohamed Sultan, Chairman of SID, Eng. Karim Sultan, Managing Partner of SID, as well as Eng. Ahmed Sultan, Managing partner of SID.
Eng. Mohamed Sultan, Chairman of SID, expressed that the company operates as an urban developer through a unique vision that revolves around establishing and managing solid alliances with both local and international partners. These collaborations bring together all stakeholders in the Real Estate development equation, including financial institutes, Investors, Landlords, service providers, and operators. The ultimate goal behind this is to deliver an exceptional urban real estate product that caters to the diverse needs of all customers.
He added: "Indeed, our success has been marked by the formation of several significant alliances, as SID contributed to the establishment of the Investmentors, Riders Construction Company, as our Construction arm, and Sultan Studios, as our interior design and landscape arm. Given that one of our most important steps to manage strategic partnerships is to ensure our success together with our partners to achieve greater Return on Investment (ROI)."
He continued: "SID has put in place an organizational structure, encompassing a blend of specialized expertise, promising young talents, and cutting-edge digital systems, all in the hope of implementing our ambitious plan to establish and manage innovative and unique urban projects that cater to the needs and expectations of all partners of success. These projects are set to surpass an investment value of EGP 10 billion and will generate approximately 10,000 direct and indirect employment opportunities."
He further added that SID's foremost ambition is to establish itself as a renowned developer, both inside and outside Egypt, by actively participating in urban development across Egypt, the mena region, and Africa. In pursuit of this goal, we aim to launch unique and sustainable urban development projects that align with the company's belief that urban development goes beyond mere brick and mortar, but rather involves creating integrated, sophisticated, and modern life experiences.
Eng. Sultan emphasized the company's commitment to exploring all opportunities for launching urban development projects across Egypt, driven by the company's confidence in the Egyptian economy's resilience and its ability to overcome challenges. He also highlighted SID's alignment with the Egyptian government's call for the private sector's involvement in advancing the development wheel and overcoming the economic challenges. He continued that in the recent years, the state has invested billions of pounds in infrastructure including roads, facilities, and new cities to encourage increased participation private sector and attract of both domestic and foreign investments.
He pointed out that the company serves as a pioneering model in the field of urban development, by applying the best international practices and using advanced digital and technological systems to maximize investment opportunities. Accordingly, the company's real estate projects are designed to achieve the golden triangle of success: shortest duration, optimal cost, and highest quality, in addition to providing value-added real estate products utilizing excellence, innovation, and diversity, all while aligning with sustainability goals and environmental preservation.
Eng. Sultan added that the embodiment of the company's vision and strategy reverberates in its first commercial administrative project "Crown Central" which comes in cooperation between Sultans for Investment and Development I SID, Investmentors, and Palm Hills Developments, the general developer and landlord. The project is being implemented in Palm Hills October; representing a successful and modern experience of the Downtown, which was architecturally and schematically designed to meet all the daily, weekly, and monthly desires and needs of all family members, through a unique experience for all customers. The project is characterized by a harmonious fusion of the famous features of the Downtown area of Cairo with the admired exquisite European touch to bring an exceptional experience to the heart of the 6th of October City.
Sultan elaborated that "Crown Central" offers an outstanding work environment, featuring an outdoor experience that fosters employee well-being through ample natural daylight, natural ventilation, and a landscaped setting. In fact, this comes in accordance with the directives and guidelines of the WELL organization and the latest sustainable design research.
He concluded his words by stating: "SID has been always keen on abiding by the principles of comprehensive quality and occupational safety and health through its projects, which enabled the company to obtain international quality certifications in sustainable development standards. For instance, SID obtained the Environmental Management System Certificate (ISO 14001:2015) for the current year, noting that this certificate is a new addition to the list of international certifications the company has acquired in quality, safety, and professionalism. Last year, it obtained the Comprehensive Quality Certificate – Quality Management System – (ISO 9001:2015), and the Safety and Occupational Health Certificate – (ISO 45001:2018) (HSE) Safety Management, through the largest international accreditations JAN/ANS under the international accreditation IAF. This achievement positions SID among the few real estate developers that have successfully attained these prestigious certifications.