Boasting Growth Rates Soaring up to 71% with a value of EGP 7.2 billion of contracted sales"
Misr Italia Properties, leading Egyptian real estate developer, announced the results of achievements carried out during the first half of 2023; from sales accomplishments and construction updates, to all the partnerships, events, and CSR initiatives, the company has shown continuous growth surpassing expectations reaching a remarkable 36% above the sales target.

The company's financial results reveal a significant achievement with contracted sales reaching EGP 7.2 billion during the first half of 2023, compared to EGP4.2 billion in the same period of 2022, representing an increase of 71%. Among the standout projects in terms of sales performance was Solare – Ras El Hekma, achieving sales worth EGP2.4 billion, closely followed by IL BOSCO City New Cairo with sales amounting to EGP 2.1 billion.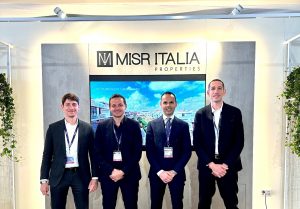 Construction has been moving according to schedule with the delivery of over 1000 units in IL BOSCO City New Cairo, including 300 villas and 700 apartments. Additionally, more than 1000 units currently under construction are scheduled for delivery this year, along with building a solid infrastructure, including gas, water, and electricity networks, as well as fiber-optic installations for the first phase of the project. As for Vinci, located in the New Administrative Capital, the company is actively engaged in the construction works for the first phase, which starts delivering this year and comprises 200 villas and 600 apartments. Moreover, the first phase of KAI Sokhna is now complete and fully prepared to welcome the property owners once all the associated facilities and services for this phase have been finalized.
On another note, the first half of the current year witnessed a lineup of significant events being hosted at a variety of the company's projects; notably, IL BOSCO Padel Tournament, which took place on the ground of IL BOSCO Javelin Sports Club. Held under the auspices of Dr. Ashraf Sobhy, Minister of Youth and Sports, as well as Khaled Abbas Chairman of The Board of Directors of the Administrative Capital For Urban Development, the tournament welcomed prominent figures as well as the world's top players for four days of padel action. Stemming from MIP's comprehensive strategy to support entrepreneurs, the company partnered with Startups Without Borders to host the latest edition, themed "Go Borderless," at Cairo Business Park, East Cairo's entrepreneurship and innovation hub. The summit featured prominent figures from various fields, including representatives from Google Europe and the Middle East, Techstars MENA, VISA, and META, among others; and showcased startups from Lebanon, Tunisia, Italy, Qatar, and Iraq, with participation from major investors and business incubators, and accelerators from Egypt and around the world.

"We exceeded all expectations and targeted figures during the first half of the current year," said Eng. Mohamed Khaled Al Assal, CEO and Managing Director of Misr Italia Properties, "This success has been a result of the company's dedication to a culture of consistent work and engagement in multiple partnerships that contribute to achieving the bestoutcomes across our suite of projects. The first half of 2023 saw Misr Italia Properties partner with EDSA, a leading American architectural firm, and Whitespace Architects, a Dutch company specializing in architectural design, to execute premium-quality planning and design for our latest coastal endeavour of Solare – Ras El Hekma. We choose partners who add substantial value to our projects and have a proven-track record that further solidifies the company's position as a pioneering force in the real estate sector."
Eng. Mohamed Hany Al Assal, CEO and Managing Director of Misr Italia Properties said: "Our strategy is guided by a solid commitment towards delivery dates to ensure premium-quality experience all-around. Moreover, we are committed to development across all our projects with the aim to foster innovation, sustainability, and entrepreneurial leadership. This commitment aligns with Misr Italia Properties' progressive vision and ambitious plans for investment and development by prioritizing innovation and sustainable practices; we seek to leave a lasting and positive impact on the real estate industry, showcasing its dedication to progress and growth in Egypt's investment and development landscape."
The first six months of 2023, have also been a time where Misr Italia Properties took part in a number of initiatives as part of its Corporate Social Responsibility by partnering with the Magdi Yacoub Heart Foundation, 57357 Children's Cancer Hospital, and most importantly the Egyptian Food Bank to provide Tante Gezira village in Qalyoubia with Ma'edet Al Rahman during Ramadan.
Collectively, these results are a continuation of Misr Italia Properties' commitment to actuating its strategic plans and vision, showcasing its dedication to making a positive impact on society and the community it serves.
A trailblazing company in Egypt's property market for many years. Renowned for delivering remarkable residential, commercial, and coastal projects all across Egypt, they possess an extensive portfolio of vast lands with 11 residential ventures, nine commercial ventures, and five luxurious hotels. Their portfolio spans a whopping 7.1 million square meters, showcasing flagship projects such as "Al-Bosco," "La Nova Vista," "Garden8," "Cairo Business Park" in the New Cairo, "Kai El Sokhna," and the grand "Solare" project covering 400 acres in Ras El Hekma's Northern Coast. Misr Italia Properties has truly left an indelible mark on Egypt's real estate landscape, consistently offering visionary and exceptional developments that redefine the essence of living and commerce.
.