Palm Hills Developments Sponsors World Squash Champion Nouran Gohar, Representing Palm Hills Sports Club in Local and International tournaments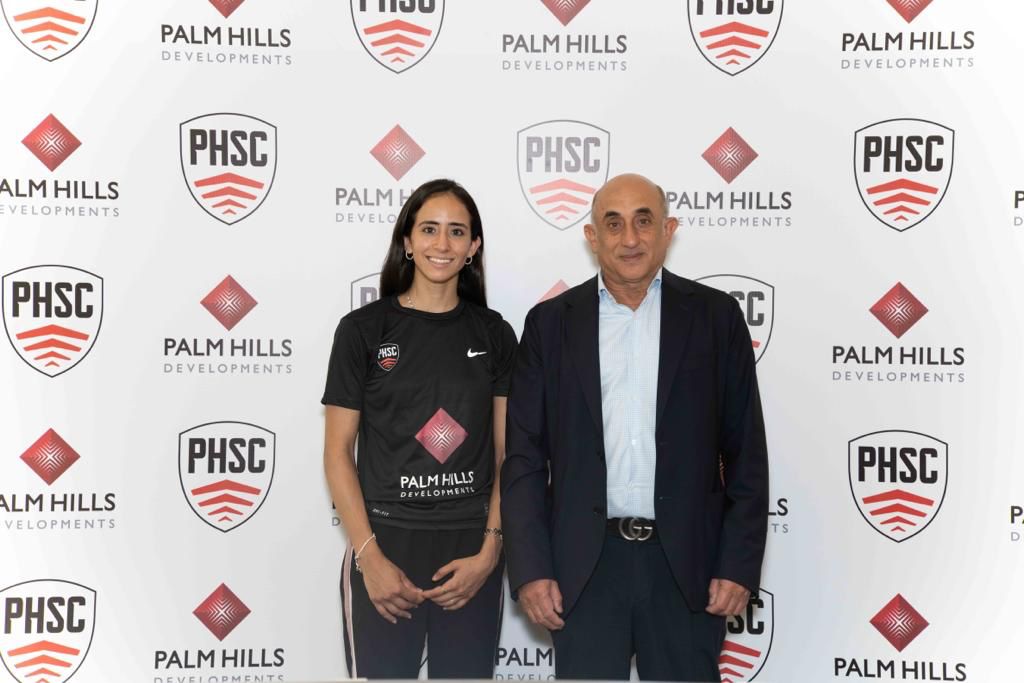 As part of its strategy to acquire young, promising talents in various individual and team sports, giving them the opportunity to hone their skills and work on technical development, Palm Hills Sports Club has signed a sponsorship contract with Nouran Gohar, the world squash champion, in which she will be representing the club in both local and international tournaments.
Through the agreement, the club will provide the champion with a structured and tailored approach to training, in addition to the necessary support to enhance her performance in major tournaments, continue her quest for reaping continental and international championships, and maintain her global ranking in the women's world squash arena.

" Palm Hills Developments pays great attention to sports investment by establishing sports clubs that include world-class facilities and courts that are designed and implemented according to international standards. In addition to providing the club members with various sports and social services, which contributes to discovering new talents, developing their level to become world champions, and transferring their experiences to young athletes, which is reflected in the development of Egyptian sports. Said Mr. Tarek Tantawy, Co- CEO and Managing Director of Palm Hills Developments.
"We've launched a new sports investment strategy aimed at enhancing our role in providing sports and social services to our club members, while also effectively contributing to the development of Egyptian sports. We commenced the strategy by rebranding the club as "Palm Hills Sports Club," with the aim of reflecting our goal of fostering young talents across various sports," said Mr. Tarik Atia, CEO of Palm Sports.
He added, "With the addition of world champion Nouran Gohar to Palm Hills Sports Club, we continue to implement our strategy with the aim of supporting the young athlete in pursuing her journey to reaping championships and awards, while also sharing her sports expertise with rising youth talents, with the intention of motivating them to enhance their physical and technical competencies, which consequently contributes to the development of Egyptian sports."
"I'm beyond thrilled to join Palm Hills Sports Club, which is renowned for its elite facilities and courts and is regarded as one of Egypt's finest sports clubs, offering the kind of resources every champion pursuits in order to enhance their technical and physical performances overall, and eventually maintain their position at the forefront of global rankings, which is in line with my goals and ambitions to achieve more championships and share my expertise with the young talents, " said the world squash champion, Nouran Gohar.
"I'm also proud and honored by the confidence shown by Palm Hills Developments in sponsoring my upcoming squash tournaments, especially that Palm Hills Development is one of the prominent economic entities, which motivates me to invest my utmost efforts in obtaining championships."
The addition of Nouran Gohar's to Palm Hills Sports Club is a continuation of the club's role in supporting squash, not only through the establishment of world-class courts at the club's headquarters in 6th of October, but also through hosting and sponsoring major youth tournaments conducted under the supervision of world-class coaches with the participation of athletes from various countries. The aim is to elevate the performances of Egyptian players and expose them to diverse training systems to develop their competencies and skills.

The transfer of Nouran Gohar represents another milestone in Palm Hills Sports Club's strategy of recruiting world-class champions. Gohar's journey is marked by numerous achievements, records, and titles in the game of squash. Most notably, she holds an unchanged Women's World Ranking with a total of 19,045 points, significantly ahead of her closest competitors.
She has secured multiple championships, including the recent "Greatest Eight" title, and has won five World Team Championships with the national team. Furthermore, she is the first Egyptian Female to win the Hong Kong International Squash Open championship and is the first Egyptian to win the U.S. Open Squash Championship three times. In addition to these accomplishments, Nouran Gohar was previously selected as one of Forbes Middle East's "30 Promising Arab Personalities."
Established in 2006 on a 20-acre area, Palm Hills Sports Club in 6th of October City is among the largest and oldest sports clubs in western Cairo. The sports club features a multitude of courts and sports facilities designed and executed to meet international standards. These facilities enable the practice of 10 different sports, prominently including football fields, 8 tennis courts, and 4 squash courts.
Additionally, Palm Hills Sports Club boasts a number of swimming pools; a gym with state-of-the-art equipment; and social amenities tailored for families and seniors, allowing them to relish their time within the premises, in a way that promotes family quality time. Moreover, the club arranges training programs for young individuals aimed at discovering and nurturing their talents.
Palm Hills Sports Club is one of Palm Hills Development sports clubs, aimed at fulfilling the company's commitment to expanding its sports investments to provide comprehensive services for its members. This comes in line with the state's efforts to discover talents across various sports and equip them with the necessary resources to develop their technical, physical, and behavioral competencies with the goal of attaining continental and international championships.