Beko Egypt Reviews Investment Plans with Minister of Trade and Industry During His Historic Visit to Ankara to Support Trade Opportunities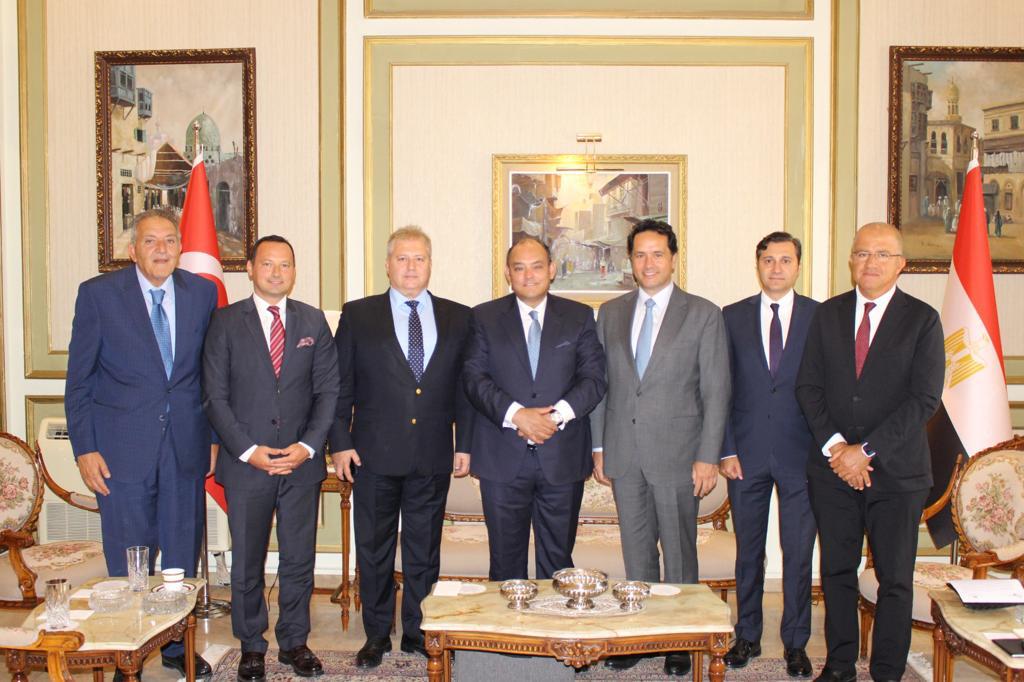 – Beko and Arçelik Affirm Strategy to Support Investment in Egypt and Localize Household Appliances Industry
– Koç Holding Invited to Visit Egypt for Investment Opportunities in Various Industries

During the historic visit of the Egyptian Minister of Trade and Industry to Ankara, H.E. Eng. Ahmed Samir met with Mr. Umit Günel, General Manager of Beko Egypt. Günel discussed the company's investments and ambitious plans to expand within the Egyptian market. Beko Egypt is preparing to open its first plant in the industrial city in the 10th of Ramadan area, covering a total area of 114,000 square meters. With investments exceeding 100 million dollars, the plant aims to produce eco-friendly home appliances such as refrigerators and ovens by the end of the year.
Engineer Ahmed Samir also met with Mr. Polat Sen, CFO of Koç Holding Group, the parent company of Arçelik, and Mr. Nihat Biyaz, CTO of Arçelik. Koç Holding was invited to visit Egypt and explore investment opportunities in various industries. The group expressed confidence in the Egyptian investment climate and showed aspirations for more business in the Egyptian markets in the long term.
Eng. Ahmed Samir expressed Egypt's desire to strengthen cooperation with Turkey in various areas of common interest. The actions taken by both countries aim to develop sustainable relations and expand bilateral trade volume from 10 billion dollars to 15 billion dollars within five years. The use of local currencies in bilateral trade is also being explored, as it can fulfill the aspirations of both Egyptian and Turkish peoples, as stated by the Ministry of Industry and Trade.
Mr. Umit Günel, General Manager of Beko Egypt, expressed his happiness meeting with the minister. He shared his aspirations to increase trade exchange between Egypt and Turkey following this historic visit, which will benefit the economies of both countries. Günel emphasized the deep-rooted and long-standing history of Egyptian-Turkish trade and expressed that this visit will pave the way for stronger bilateral economic relations.
Günel outlined Beko Egypt's ambitious expansion plan within the Egyptian market. The company aims to deepen industrial localization and make Egypt a center for manufacturing and exporting to foreign markets. Production is set to commence in the last quarter of 2023 with a capacity of 1.5 million devices annually. Of these, 60% will be allocated for export to Europe, the Middle East, and Africa, with an estimated annual export potential of 250 million dollars.
Beko Egypt's plant will operate with renewable energy, promoting a "Zero Waste" approach. The initial investments will focus on producing eco-friendly refrigerators and ovens with energy-saving technology, aligning with the state's vision for a green economy and industrial localization. This project is expected to create over 2,000 job opportunities for Egyptian youth, contributing to the prosperity of the national economy.
Having operated in Egypt for over 10 years, Beko Egypt is considering expanding its production line. The company plans to open 250 new showrooms and 50 service centers in Egypt, enhancing customer experience with world-class quality. This expansion will create new job opportunities and add value to the Egyptian economy. It is made possible by the rapid growth of the Egyptian economy, local market

About Koç Holding
As Arçelik's parent company, Koç Holding is Turkey's leading investment holding company and the Koç Group is Turkey's largest industrial and services group in terms of revenues, exports, number of employees, taxes paid, and market capitalization on Borsa Istanbul. Being the only Turkish company to be ranked in the Fortune Global 500 List and Forbes' World's Best Employers List, Koç Holding has leading positions with strong competitive advantages in the energy, automotive, consumer durables, and finance sectors.
About Arçelik
With 45,000 employees throughout the world, Arçelik's global operations include subsidiaries in 53 countries, 30 production facilities in 9 countries, and 12 brands (Arçelik, Beko, Grundig, Blomberg, ElektraBregenz, Arctic, Leisure, Flavel, Defy, Altus, Dawlance, Voltas Beko). Arçelik, among the three largest white goods companies in Europe with its market share (based on volumes), reached a consolidated turnover of 6.5 billion Euros in 2021. Arçelik's 29 R&D and Design Centers & Offices across the globe are home to over 2,300 researchers and hold up to 3,000 internationally registered patent applications to date. In 2021, Arçelik achieved the highest score in the DHP Household Durables category for the 3rd year in a row (based on the results dated November 2021) in the Dow Jones Sustainability Index of the S&P Global Corporate Sustainability Assessment. Through its leadership position in sustainability and credible decarbonization roadmap for achieving net zero, Arçelik became the first and only company from its industry to receive the Terra Carta Seal by His Majesty King Charles III. Arçelik's vision is 'Respecting the World, Respected Worldwide.' www.arcelikglobal.com
About Beko
Beko is the international home appliance brand of Arçelik, a multinational household appliances manufacturer with 12 brands and employs 45,000 people worldwide. Beko is one of the top 3 large home appliances brands in Europe*. The brand is the naming partner of the Fenerbahçe Men's Basketball Team and the official supplier of European League of Legends Championship (LEC).
Beko Egypt is currently gaining a larger share of the Egyptian market with more than 750 sales and 83 customer service centers (current & upcoming). The company provides a wide range of eco-friendly products, including ovens, refrigerators, washing machines, dishwashers, hoods, and coffee machines.
Beko has been focusing on healthy living for years, raising awareness and developing products that make healthy living possible and convenient. Beko's brand mission is 'healthy living is only possible on a healthy planet'. Beko is committed to protecting the planet by designing and manufacturing energy-efficient products and investing in resource efficiency in production.