Siemens Healthineers Are Demonstrating Their Latest Breakthroughs and Education Solutions at Africa Health ExCon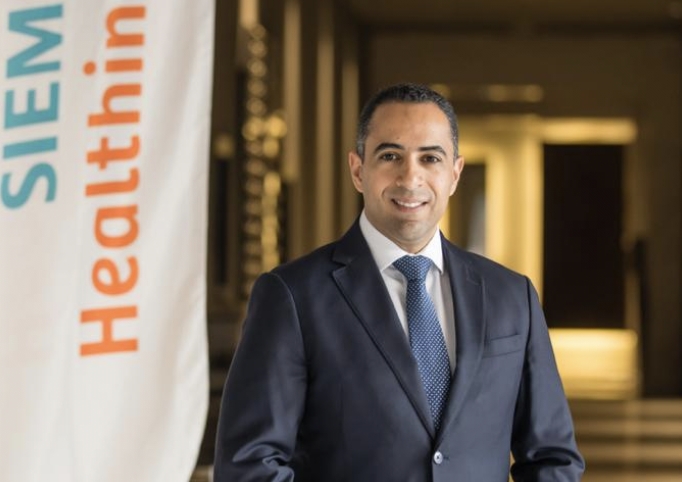 Cairo, Egypt – Siemens Healthineers, a leading global medical technology company, announced its participation in the Africa Health ExCon, the largest medical conference & exhibition in Africa, taking place from 6 -9 June 2023 at the Egypt International Exhibition Center (EIEC) and under the patronage of His Excellency President Abdel Fattah El Sisi. The event, organized by the Egyptian Authority for Unified Procurement, Medical Supply and the Management of Medical Technology (UPA), aims to connect international healthcare providers and manufacturers, showcasing the latest technologies in the field of medicine, serving as a platform for African countries to exchange expertise and coordinate with global companies to find solutions for the continent's health problems.
Siemens Healthineers will demonstrate their latest solutions and equipment on two separate booths in Hall 2 and Hall 3, with one of the highlights being a connected training area, where CME accredited courses will be offered exclusively to registered participants. The event's anticipated 60,000 attendees can expect the company's entire solutions portfolio, which, coupled with Varian's experience in Oncology Treatment and Care, spans across Medical Imaging, Laboratory Diagnostics, Point-of-Care Testing and Cancer Therapy. Visitors will also be able to gather more information on how Siemens Healthineers is instrumental in transforming healthcare delivery in Egypt through their offerings in IT and digital technologies, such as remote consultations and efficient use of medical data.
Eng. Amro Kandil, Managing Director of Siemens Healthineers in Egypt, Libya, Sudan, Eritrea and Djibouti, emphasized the significance of equipping healthcare professionals with the needed skills for the healthcare field to rise in line with Egypt's vision 2030 stating "As a trusted partner to the MOH in Egypt and many major local healthcare institutions, we are committed to continue in raising the bar for providing quality healthcare for all. One key area to ensure sustainable healthcare delivery is the ongoing education and training of medical staff. At Siemens Healthineers, we are proud to be a part of this journey where the Siemens Healthineers Academy in Egypt is significantly expanding. In our continuous efforts to strengthen the local healthcare infrastructure, to address staff shortages of highly qualified healthcare professionals and to improve access to care in both urban and rural areas, we have already extensively trained over 1,200 alumni with 115+ sessions. Moving forward, we are looking to further expand capacities to accommodate 2,000 students per year.
Kandil continued: "We also believe in unwavering commitment towards achieving the highest level of excellence in cancer care and especially regarding women's health. That's why our academy has delivered two state-of-the-art breast phantoms for more hands-on training to simulate diagnostics and interventions on them and further enhance the practical learning opportunities available to Egyptian young doctors."
Earlier in 2022, the company also launched the 2nd Innovation Think Tank Certification Program in Cairo named "Access to Care in Egypt", an interactive program designed to develop creative pioneers, capable of delivering innovative and customer-centric solutions within their own field of profession.
In recent past, the company also signed several collaborative agreements, including long-term partnerships with NGOs like Magdi Yacoub Foundation in Aswan, Future Hands in Alexandria, in addition to Master Research Agreements with leading academic institutions and research centers to collaborate on innovative research projects using Artificial Intelligence, and an MOU with Ain Shams Specialized Hospital and Children Cancer Hospital to train doctors and technicians, cultivating a high-level skilled workforce of doctors and technicians.

Siemens Healthineers Egypt has been a leading provider of medical technology and healthcare solutions in the country, with a commitment to improving patient outcomes through advanced imaging and diagnostic technologies. Its cutting-edge imaging systems such as MRI, CT, and ultrasound machines enable accurate and quick diagnoses, which is critical to effective treatment and recovery.

Siemens Healthineers AG (listed in Frankfurt, Germany: SHL) pioneers breakthroughs in healthcare. For everyone. Everywhere. As a leading medical technology company headquartered in Erlangen, Germany, Siemens Healthineers and its regional companies are continuously developing their product and service portfolio, with AI-supported applications and digital offerings that play an increasingly important role in the next generation of medical technology. These new applications will enhance the company's foundation in in-vitro diagnostics, image-guided therapy, in-vivo diagnostics, and innovative cancer care. Siemens Healthineers also provides a range of services and solutions to enhance healthcare providers' ability to provide high-quality, efficient care. In fiscal 2022, which ended on September 30, 2022, Siemens Healthineers, which has approximately 69,500 employees worldwide, generated revenue of around €21.7 billion and adjusted EBIT of almost €3.7 billion. Further information is available at www.siemens-healthineers.com.