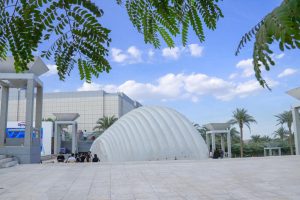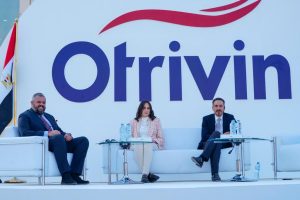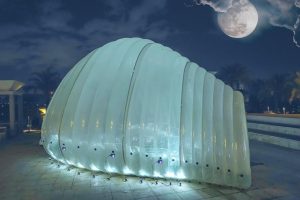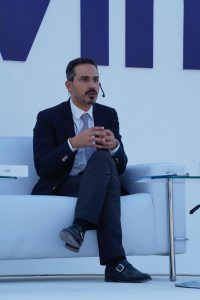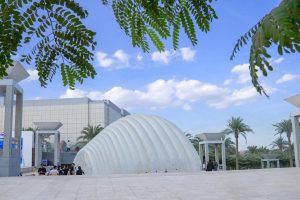 Otrivin, a world leader in nasal health, today launched the world's first air-purifying experience in Egypt, to raise young people's awareness about the devasting impact of air pollution. Installed at Cairo's National Museum of Egyptian Civilization, the Otrivin Air Bubble is a unique educational experience which uses biotechnology to purify the air and demonstrate the simple, everyday actions that people can take to encourage cleaner air.
Air pollution is considered the world's largest environmental health threat1, with children being disproportionately impacted as a result of inhaling more air pollutants than adults per body weight3. According to the World Health Organization, 93% of children globally breathe polluted air every day2.
In an effort to reduce children's exposure to air pollutants, the Air Bubble uses solutions derived from nature to help reduce and mitigate exposure to air pollutants. This is particularly pertinent in Cairo, where PM2.5 levels are 11.7 times higher than the recommended "safe" level, posing high health risks for inhabitants and increasing treatment costs4.
Recognizing the impact of air pollution on Egypt's capital, after having travelled around the world, the Otrivin Air Bubble is coming to the most populous Arab country to inspire behavioral change to encourage clean breathing. Simple, everyday steps that people can take to help them breath cleaner air include: choosing low-carbon emitting transport, proactively monitoring pollution exposure, purifying the air by ventilating cooking areas and vacuuming home regularly.
Nabil Besri, General Manager of GSK Consumer Healthcare (member of the Haleon group) in North Africa, said: "We have a unique opportunity to help break down the environmental and social barriers that hold people back from better everyday health. In bringing the Otrivin Air Bubble to Egypt, we're demonstrating our ability to provide localized solutions to crucial issues. As part of our purpose to deliver better everyday health with humanity, we are committed to playing a part in mobilizing an increase in urgency and ambition to tackle climate change. We hope that the Otrivin Air Bubble activation will help ignite a broader conversation about the importance of protecting the environment and public health from the devasting impact of air pollution."
Developed in partnership with ecoLogicStudio, a pioneer in applied bio-solutions in urban architecture, the Air Bubble brings innovative nature-based technology to Egypt for the first time.
UK Ambassador to Egypt Gareth Bayley said: "Today's launch of an amazing 'Air Bubble' is a great example of how important it is to exert all efforts to accelerate the transition towards net zero emissions and help protect the environment to ensure the wellbeing and health of current and future generations. The design is brilliant and the costs are not high. I am proud to see GSK Consumer Healthcare (member of the Haleon group) develop such an innovative approach to educate and support children, the leaders of tomorrow on how to take part in creating a safer and healthier world. This only reinforces the urgency of climate change and our strong commitment towards our green partnership with Egypt and the rest of the world."
Dr. Marco Poletto, co-founder of ecoLogic Studio, said, "Scholars have long acknowledged Ancient Egypt as one of the cradles of civilization. In those times, the Nile River deposited the unique microbiome of bacteria and microorganisms at regular intervals, aiding the land to become fertile. Thousands of years later, we stand here today to celebrate this life giving process. Air Bubble revives its heritage devoting it to the contemporary challenge of building a new, carbon neutral, civilization. Air Bubble proposes a tangible vision of how a net zero civilization can clean its pollution, produce its energy, grow its food and construct its buildings in the next 30 years starting now."
From today until December 19, visitors to Cairo's National Museum of Egyptian Civilization can experience the air purifying Otrivin Air Bubble and learn how science-based solutions can tackle the biggest environmental issues.
As the world's leading consumer healthcare company, GSK Consumer Healthcare (member of the Haleon group) is acutely aware of the links between the environment and people's health. With air pollution negatively impacting overall health levels, GSK Consumer Healthcare is keen to play a part in inspiring people to take actions towards clean breathing. Initiatives such as the Otrivin Air Bubble form part of the company's commitment to greater health inclusivity, by highlighting and breaking down the barriers which hold people back from achieving better everyday health. The Air Bubble experience also aligns with GSK Consumer Healthcare's commitment to reducing emissions, with the company aiming to achieve Net Zero carbon emissions by 2040.
Otrivin aims to leverage the power of health science, microbiology, and architecture to inspire immediate action towards mitigating air pollution risks. At a global level, the company funds a collaborative scientific initiative, The Clean Breathing Institute, with the aim of creating a network of scientists, academics, healthcare professionals, and stakeholders who will work together to reduce the effects of air pollution on respiratory health and quality of life,
.