Nakheel Developments signs strategic partnerships for managing "Double Two Tower " at the New Capital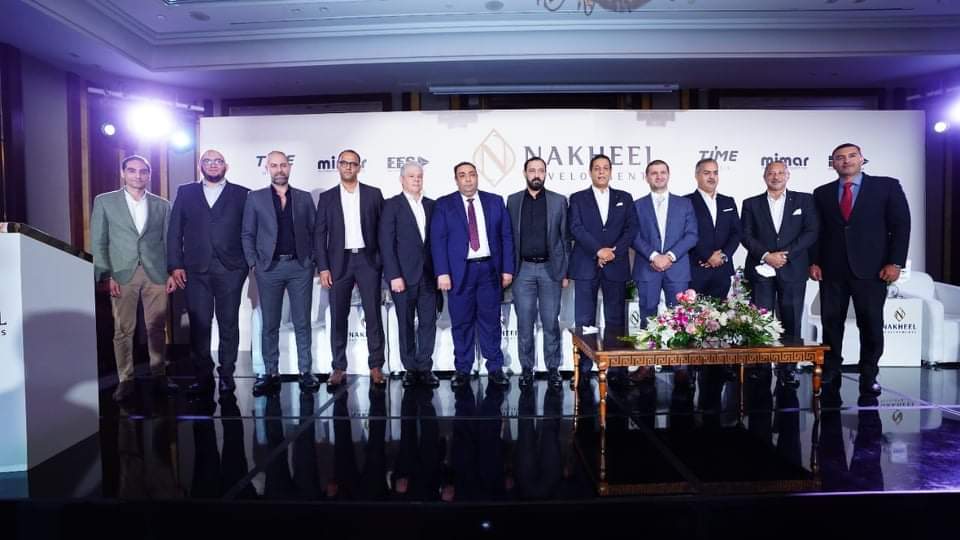 Company's total investments in the New Administrative Capital worth EGP 4.5bn, says Sherif El-Domyati
TIME provides hotel management services for the project as one of the best projects in the New Capital, says Mohamed Awadalla
EFS plans to manage the project based on four main axes that maintain its investment value, says Hisham Saleh
Mimar Egypt Engineering Consultants has succeeded in designing projects worth more than $3.5bn, says Mohammed Al Shurafa
Nakheel Developments announced its contract with a group of companies to manage and develop its "Double Two Tower" project in the New Administrative Capital, as part of the company's plan to cooperate with the strong entities in several disciplines to develop a flagship project as well as to maintain its quality and investment value.
Head of commercial sector at Nakheel Developments Sherif El-Domyati said that the" Double Two Tower "is located on approximately 9,000 sqm and comprises administrative and commercial units besides, serviced apartments. The project's commercial part is being constructed on an area of 45% of the total project size.
El-Domyati added that the project investments are estimated at nearly EGP 3bn, noted that the company aims to sell out about 70% of the project in 2021, and it is planned to deliver the tower within three and a half years.
In press conference held on Thursday, El-Domyati pointed out that the company is cooperating with the strongest and distinguished entities to develop an integrated project in the New Administrative Capital, namely Mimar Egypt Engineering Consultants , EFS Facilities Services and Time Hotels.
He further said that Nakheel Developments is currently developing Trio V Tower project in the New Capital, which is a Medical, Administrative, and Commercial project.
He elaborated that the company has provided distinctive elements for "Trio V Tower" project. ACE Moharram Bakhoum assumes the role of the engineering consultant for the project about 70% of the tower has been sold out since its launch in March 2021. The project is located on an area of 7,000 sqm, featuring 2,100 sqm of built-up area, equivalent to 30% of the project's total area.
Moreover, the project consists of a ground floor and 14 storeys, with the ground floor to the fourth storey allocated to Commercial units.
The rest of the project varies between Administrative and Medical units.
"The company intends to complete excavation work for the two projects and begin pouring concrete by next December. Over and above, Nakheel company pays land installments according to schedule agreed upon with the Administrative Capital for Urban Development (ACUD) company," he explained. "The total current investments of the company amounted to approximately EGP 4.5bn, as it relies on self-financing with its strong financial solvency. Besides, the company has an expansion plan in real estate market in the coming period, then developing more diversified projects in new areas, including New Alamein, after completing all market studies."
Mohamed Awadalla CEO at TIME Hotels stated that the "Double Two Tower" project is the company's third project in the Egyptian market.
Awadalla added that his company chooses its partners carefully, and wisely choose the projects which it puts brand; consequently, Nakheel Developments was chosen to manage one of these projects as one of the best projects in the New Capital.
He further noted, "Time Hotels was established in the UAE since 2012 and manages five prestigious brands, each of which offers a range of outstanding services that meet different needs of our value guests. These brands are Time Hotels and Resorts, Time Express, Time Hotel Apartments, Time Residence and Time Motels."
Time Hotel is interested in choosing administrative structures for all its hotels based on prominent experience, ability to make decisions, ability to lead, speed, effectiveness and flexibility in decision-making, He said.
Awadalla further added that modern technology is also one of the areas in which the company has shined through its selection of the latest programs in central reservations, using electronic distribution system and content management, in addition to, using internal quality management, using engineering maintenance system and also using mobile application system in reservations.
Chief Commercial Officer at EFS Facilities Services Hisham Saleh said that EFS is managing the" Double Two Tower" project based on four main axes, which are providing general technical consultations for the project, following up the project implementation phases and receiving the project technically engineering from contractors to suppliers of project equipment. Then starting training work team responsible for managing and operating the project.
Saleh explained that this is the first cooperate with Nakheel Developments, added, "The company enjoys a strong position and reputation in Egypt's real estate market as one of the oldest and strongest real estate development companies in the Middle East."
Additionally, He pointed out that EFS Facilities Services is one of the regional leaders in providing integrated facilities management services in the Middle East, Africa, South Asia and Turkey, for more than 17 years. Furthermore, the company has been accredited to provide high quality services to some of the largest regional companies including the region's leading multinational corporations.
He noted that the company reviews all designs and details of the project to ensure that all project management requirements are met after the completion of construction and finishes, as well as follow up the development phases over the years of project implementation to ensure that everything agreed upon in technical consultancy phase has been implemented.
Vice President at Mimar group Mohammed Al Shurafa said that Mimar chose Nakheel company to cooperate with it, to present a unique and brilliant project in which the two companies invest their expertise in similar projects in Gulf countries to provide a thing that is distinguished and attracts different user who seeks high quality in operation.
Al Shurafa pointed out that Mimar Egypt Engineering Consultants has a previous experience with real estate developers in the UAE, including Emaar and Meraas. Likewise, the company has succeeded over the past 20 years in designing and developing many projects vary between commercial, residential and hotel projects with total value exceeds $3.5bn.
He disclosed that the company worked on developing architectural design of the city administration building, which is directly affiliated to the ACUD, and the control building of the Ministry of Interior, in addition to many other projects with a total built-up area of more than 1m sqm mixt between residential, commercial, administrative and other projects.
Mimar Egypt Engineering Consultants classifies the "Double Two Tower" project as a high-rise building project, subject to the type of buildings that are based on the consumption of limited spaces and resort to vertical extension, therefore the vertical density entails a great challenge in exploiting spaces and obtaining the highest efficiency.