Crédit Agricole Egypt and Visa renew their partnership The new agreement will expand customer's convenience and accelerate digital transformation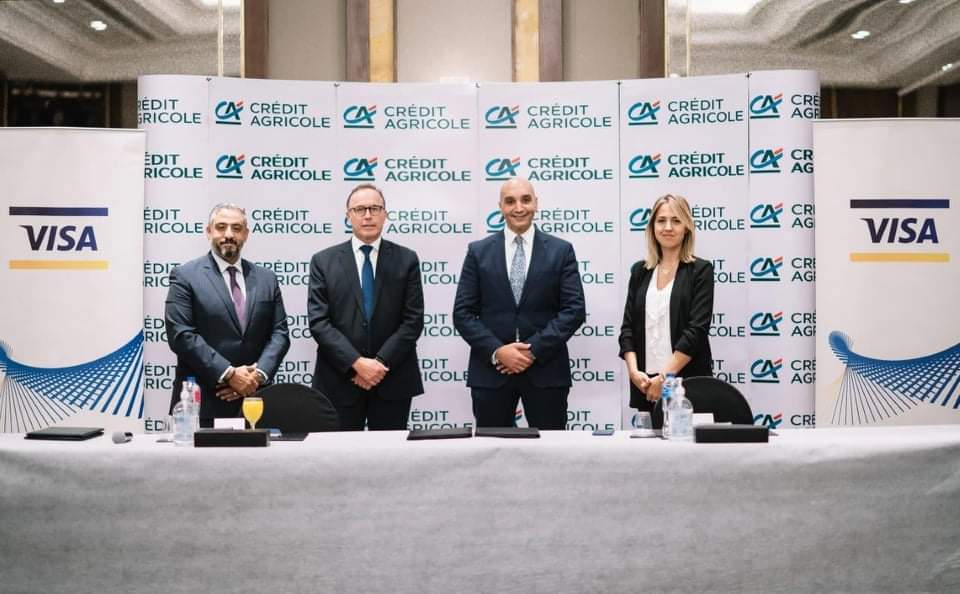 Crédit Agricole Egypt has announced signing a new five-year partnership agreement with Visa. During the signing ceremony, Crédit Agricole Egypt was represented by the Managing Director Jean-Pierre Trinelle and Deputy Managing Director Walie El-Din Lotfy. From Visa's side, Ahmed Gaber, Visa's General Manager for North Africa, and Malak El Baba, Visa's Country Manager for Visa Egypt, represented the digital payment technology company. With the new agreement, Visa and Credit Agricole will continue to cooperate to provide the best and innovative cards payment solutions.
Commenting on the new partnership, Jean-Pierre Trinelle, said: "at Credit Agricole Egypt, our priority is our customer's satisfaction, while ensuring the bank's continuing growth. Therefore, we are proudly extending our 17-year cooperation with Visa to open up new horizons in cards payment services and thus further meet our clients' needs and expectations. In turn, Credit Agricole Visa Cards will be the preferred means of payment of our customers and will lead to a more sustainable relationship. In addition, offering innovative solutions will cement the leadership of Crédit Agricole Egypt in the field of digital payments."
For his part, Walie El-Din Lotfy, said: "We seek innovation throughout all our offerings to create a real customer-value as a business driver and a support to the community. Thanks to this extended partnership, Visa will continue to support Credit Agricole Egypt to provide more innovative solutions, out of which inside closed communities where we are the first bank in Egypt to support financial inclusion by converting plastic membership cards into payment cards in some specific communities.
Ahmed Gaber, Visa's GM for North Africa, said: "Digital transformation and the use of digital payments have become necessary in modern day to day living. The ease and speed of which transactions are made is what consumers increasingly expect and what businesses need to offer to thrive. From this standpoint, Visa has been working with its partners in the financial and banking sector to support financial inclusion for all clients, from retail banking customers, to SMEs, and corporates. We will continue to introduce new programs and provide the necessary resources to give individuals and businesses the digital capabilities for today's world and for the future."
For her part, Malak El Baba, Visa's Country Manager for Egypt, expressed her pride in the partnership with Crédit Agricole Egypt, noting that the renewed cooperation will enable them to continue offering more innovative digital payments solutions to the bank's cardholders.
She added: "The fruitful cooperation between the two establishments has gone through important milestones, including: the launch of the first Visa Infinite credit card in the Egyptian market. The new partnership is a testimony of their confidence in Visa's innovative products and services, and we look forward to more successes in our journey with Crédit Agricole Egypt to provide cardholders secure, convenient and reliable digital payment solutions."
Crédit Agricole Egypt is a subsidiary of the Crédit Agricole Group, a market leader in Universal Customer-Focused Banking in France and one of the largest banks worldwide. With operations in 50 countries, Crédit Agricole Group seeks to serve the real economy by supporting its clients' projects in all areas of retail banking and associated specialized business lines. Emphasizing its values and commitment, Crédit Agricole Group is the bank of common sense. It puts the satisfaction and the interests of all its customers, employees and shareholders at the heart of its activities.
Established in 2006, Crédit Agricole Egypt has become an active player in Egypt's financial industry offering a wide range of innovative and convenient products to its clients across the entire spectrum: Corporate, SMEs and individuals. Crédit Agricole Egypt's key goal is customers' satisfaction by valuing and prioritizing their best interests. Thus, Crédit Agricole Egypt has created specialized segments to cater its customers' needs by offering the sound advice and tailored financial solutions. Accessibility and customers' convenience are a priority for Crédit Agricole Egypt that offers a nationwide network of branches and ATMs. Also, the bank is considered as a market leader in terms of electronic services by offering state-of-the-art electronic banking solutions.