Gold's Gym – Madinaty – launches Cashless Application from Cashcall, the closed community platform that give its members an exceptional customer experience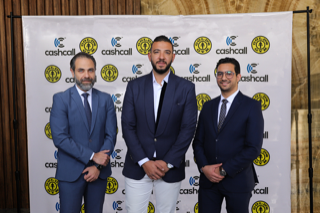 Recently, Gold's Gym Madinaty has taken a major step towards the provision of utter customer satisfaction by signing a new cooperation protocol with Cashcall.
To start with, Cashcall is a Fintech company that brings global financial inclusion experience to the Egyptian local market, allowing the activation of digital payments and receivables through versatile and various Omni channels.
As for the aforementioned protocol, it is bound to link Gold's Gym Madinaty with the Cashless application, to provide the gym's members with a wide range of services and privileges, while ensuring an integrated, smooth, and exceptional customer experience.
To further explicate, Cashless application deemed to be one of the first platforms to facilitate community activities and offers a multitude of benefits for the community, the members, and the merchants inside the community.
Additionally, this protocol allows the gym to transform its community into a secure, digital one that supports financial inclusion, as well as caters to the cashless needs of its members.
Not to mention, this partnership enables the gym's management to achieve the highest customer satisfaction rates, and monetize digital ads pertinent to their dietary supplements store, dietitian meals, sports apparel, and accessories. This will certainly entice revenue growth, in turn.
Commenting on this partnership, Mohamed Osama Abdel Aty, Chairman of the Board of Directors of Al-Ittihad Company for Sports Activities, expressed his elation at cooperating with Cashcall, and confirmed that this partnership would support their keenness to provide unique and distinguished services to their members, currently and in the long run.
On the other hand, Ahmed Mahrous, CEO of Cashcall Company, took pride in joining forces with Gold's Gym Madinaty, which is considered to be one of the very first gyms in Egypt to provide an integrated cashless community for its members.
Mahrous also stated that this cooperation serves Cashcall's outright strategy that upholds digital transformation, and simultaneously consolidates financial inclusion; two prominent and vital concepts that are currently being fostered by the Egyptian government within the framework of its 2030 Vision.
Furthermore, Mahrous emphasized that the Cashless application contributes to the digitization of payments and collections, by saying: "The up-and-coming digital payments market comprises a myriad of opportunities for growth, and via the Cashless application a lot of users will be proffered many distinctive offers, discounts, and financial services."
To reinforce what was previously mentioned, Mohamed Abu Bakr, Cashcall Head of Business Development (Cashless), added: "We currently have a plan to popularize our application in the educational institutions, sports facilities, and residential communities."
Finally, Hamdi Hafez, Product Marketing Manager at Cashcall, said that the Cashless application provides many benefits to corporate and individual customers in support of the digital transformation strategy and financial inclusion with the aim of encouraging the Egyptian society to adopt and assimilate the e-commerce payment system.
In short, Cashcall generally provides a bespoke experience to its users, as it ensures that all transactions are done in a subtle manner, which leads to providing swifter and easier services. The company has incorporated a new feature into the Cashless application, entitled: "know your customer", which conducts reports on customer behavior, as part of their customer value maximization activities.
It is worth mentioning that Cashcall is constantly on the lookout for developing a bank-free society that helps to reach full financial inclusion for the underbanked community, in order to provide better facilities to citizens through advanced financial services. In addition, the company aims to provide its services to the government sector, individuals, corporates, along with the financial institutions.